I removed ugly wallpaper from my bathroom and you can too!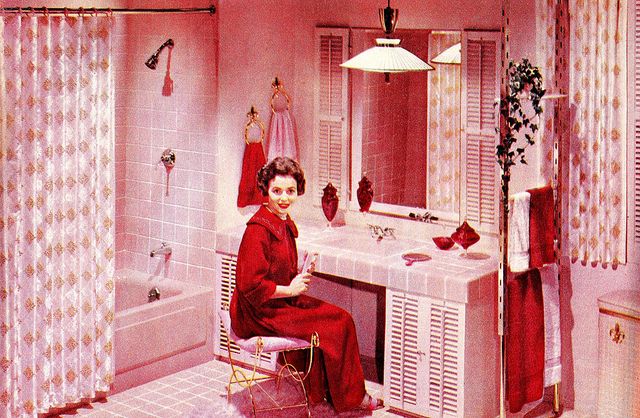 How to Remove Your Ugly Bathroom Wallpaper in 9 Torturous Steps: 
1.  Decide that your bathroom wallpaper is so ugly you can't live with it one more day and convince yourself it really can't be that hard to remove it. (Scale of Difficulty 0)
2.  Find a small section that is starting to peel off anyway, and just give it a little tug. This will give you a slight adrenaline rush. You may say to yourself, "Now that wasn't so hard, was it?"  (Scale of Difficulty 0)
3.  Begin enthusiastically tearing off wallpaper as fast as you can. Throw caution to the wind as those long curls of wallpaper float freely to the floor. (Scale of Difficulty 1)
4. Now it's time for your "OH CRAAAP." moment. You've made a huge mess. There is no going back now. Life will never be the same. Time to Google "How to Remove Wallpaper." (Scale of Difficulty 5)
5.  Okay, deep breath. This is all going to be fine. Continue to peel the top coat of wallpaper as long as it's coming off in large strips. There might be several spots where it just isn't coming off and you will be tempted to pick at it like scab. Don't do it! You'll only drive yourself crazy and eventually be sitting on the bathroom floor drinking Pinot and wondering where you're life went wrong. (Scale of Difficulty 7)
6. Mix a 50/50 solution of hot water and liquid fabric softener and put it in a spray bottle. An old Windex bottle works just  fine, but a garden spayer is even better because you won't have to refill as often. (Scale of Difficulty 1)
7.  Generously spray your solution over remaining wallpaper and wallpaper glue. It's important to give the solution time to soak in. You must  wait a full fifteen minutes OR watch approximately 5 You Tube videos before trying to remove the wallpaper. (Scale of Difficulty 2)
8. Things are about to get messy so make sure you have a dropcloth laid out. Using a wallpaper scraper thingy, scrap off wallpaper and glue. Some of it will come off effortlessly. If some god-awful black market cement was used in securing your wallpaper, other areas might prove to be more challenging. Scrap off as much as you can, take a break and cry, then get back to work. (Scale of Difficulty 743)
9. After every freaking bit of wallpaper is removed, wipe down walls with a warm washcloth to clean any remaining dust and fabric softener. Now you are free to patch, sand, prime and paint your walls! Viola! (Scale of Difficulty – Not worth it).
Here's our "Before":
Stripped, patched and primed. A perfect blank canvas.
I'll keep ya'll updated…
xo,
KP